There was a time in the 2000s during the boom of Chinese companies' entering the US public markets when executives visiting from the PRC knew only one thing in English: "OTCBB." Officially known as the OTC Bulletin Board and owned and operated by the Financial Industry Regulatory Authority (FINRA), for decades it was the place for over-the-counter stocks to trade. It was pretty much this or the Pink Sheets until very recently. Cromwell Coulson and his team at OTC Markets, owner of the...

The inventor tinkers. The dreamer cogitates. The "light bulb" moments are exciting. I thought up something new! Both small and large innovations can be exciting whether it's the 3D printer or a cereal bowl with two levels, one for milk and the other for cereal to stay crisp. But did you invent something that will matter? Can you make it, get it to market and satisfy demand? Are you the right person to make it happen? Can you properly protect the idea? There are so many challenges getting from the light bulb to the bank. Here are five things to watch out for that could quash your effort to bring on something new:
1. Your innovation does not satisfy an unmet need. Something new and unique is nice, but does anyone care? 3D television was set to take the world by storm but now has virtually disappeared because there is simply no consumer demand. Older folks may remember quadrophonic stereo, the Sony Betamax, the Apple Newton, WebTV, the DeLorean car, new Coke and others.
2. Your management team is not up to the task. The greatest ideas, not well implemented, are as good as worthless. If you do not have key team members experienced in your industry and in rolling out new products in a fast-growth mode, they could make many wrong decisions – like what applications your product will satisfy first, where and how to manufacture and distribute, how to price, even packaging can be the difference between success and failure.
3. You fail to properly protect your intellectual property. If your new idea can be patented or has a key name to be trademarked, or is a work of art to be copyrighted, get that protection. Or make sure you work very hard to keep your trade secret. So many great ideas are simply copied (or stolen!), and the first mover isn't always the most successful. Look at Google vs. Netscape, Facebook vs. MySpace, etc. Also make sure you didn't invent something that someone else already did!
4. You are undercapitalized. If you anticipate rapid and growing demand for your new product or service, and capital is required to satisfy that demand, do not get caught short. If people cannot get your new thing, then you can't make money! And the cachet of "this is hard to get" only works for a short time (read: iPhone introductions).
5. You give it away without even realizing. A potential partner for the innovation comes along and sticks a "standard" 75 page joint venture agreement in front of you. You are excited that someone else is also excited, and you go forward without proper legal review and attention. Next thing you know they have the right to take over your innovation. Quell your enthusiasm with the right legal protection!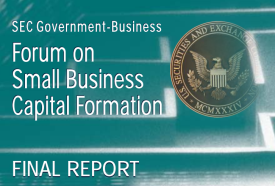 As I have for many years, last week I attended the annual SEC Government-Business Forum on Small Business Capital Formation. This Congressionally mandated event leads with a few panels followed by breakout discussion groups that develop formal recommendations to the SEC staff and commissioners to improve regulation of small business. The conference has taken on more importance in recent years when it was clear that the Jumpstart Our Business Startups (JOBS) Act of 2012 got some of its content from Forum recommendations. Also, the latest JOBS-type initiatives passed by the House Financial Services Committee included references to having originated in the Forum. Congressional staffers now regularly attend the Forum.
All five SEC commissioners attended at least part of the event and each had remarks about the importance of small business as the engine of growth in our economy. Of course the Republican appointees talk about enhancing capital formation more and the Democrats tend to focus more on investor protection. But with the GOP taking control of both houses of Congress in January, one hopes that small business could be an area for both parties to come together, as they did for JOBS, to pass further meaningful legislation to ease the regulatory burden on small companies. Here are some of the highlights of the recommendations (apologies in advance for some of the technical jargon):
A new venture exchange should be set up for OTC securities with a blue sky preemption
The tick size pilot with larger spreads between bid and ask prices should be extended to 5 years
Regulation A+ aftermarket trading should be blue sky preempted, and there should be a speedy path to full SEC reporting after a Regulation A+ offering and no limit on how much one can invest
Rule 144 key holding period should be shortened to 3 months
Private placement brokers ("finders") should have a simplified SEC registration or none
Form 8-K for "current reporting" should be eliminated for smaller reporting companies (SRCs)
XBRL financial reporting should be optional for SRCs due to the cost with minimal benefit
The accredited investor income and net worth minimums should not change, but expand accredited investor status to those who pass an exam or are licensed attorneys, accountants, registered reps, financial advisors,  etc.
Kudos as always to my good friends in the SEC Office of Small Business Policy, led by Sebastian Gomez, his aide Tony Barone who organized the conference, and Division of Corporation Finance head Keith Higgins for overseeing a very productive day.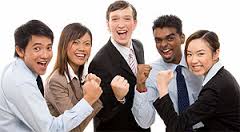 Too many entrepreneurs downplay the importance of their team's morale and overall happiness. They forget that every employee of a growing company should have a plaque labeled "frenzied" on their desk. How do they feel about their job? Does it matter? It matters, especially if you are leading correctly and macromanaging, letting your team mostly do their thing. If they are happy and motivated, they will do their job better. Here are 5 suggestions for a leader of a cash-strapped company to strengthen the morale of the team.
1. Listen. Spend some time each month talking to your people to hear about their suggestions for improvement and ways they can be motivated. Even if you don't always agree with their ideas, it's valuable if they feel they are receiving a fair hearing.
2. Motivate. Consider equity participation for key employees (ie those you would much rather not lose, at any level), if you believe that will impact on their determination to perform. Others might prefer cash bonuses dependent on the success of the business. Make sure to match the incentive to the employee.
3. Give Loyalty to Get Loyalty. Free snacks, massage Mondays, jeans on Fridays, cakes on birthdays, unique holiday gatherings, all these things matter more than you realize to your harried team. Care about important events in their lives. One friend quit his job when his boss wouldn't let him attend the funeral of a longtime close friend.
4. Roll Up Your Sleeves. Make sure the team knows what's probably true, that there is no job too small for you to handle. If they see you at the copy machine, or getting your own coffee, taking a sales call now and then or pitching in on a project when the team is overwhelmed, you can help strengthen employee morale.
5. Lead. Make time on a regular basis to talk your people about your strategy, short and long term goals, and expectations from all your constituencies including your employees. It's important that they understand the context around everything they are doing, and they will do their job better.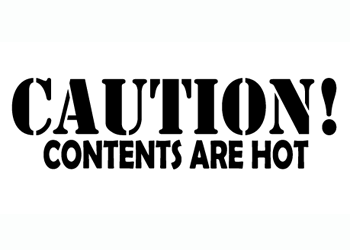 Believe it or not it's been 20 years since the famed case that Stella Liebeck brought against McDonald's when her hot coffee spilled and burned her in New Mexico. Liebeck got a nearly $3 million judgment because she wasn't warned that they make coffee hotter than you make it at home (this is why cups now have that amazingly obvious "contents may be hot" disclaimer).
Well one Selena Edwards in California tried to do the same, bringing a case against a McDonald's when her coffee cup's lid fell off. According to the ABA Journal, she got a $2000 settlement but now is being accused of falsifying medical documents and stealing pictures from a hospital website. She had said her hand was hurt but it is now alleged she didn't get any medical attention. So now she is facing criminal prosecution.
Of course she is presumed innocent and maybe this is a big misunderstanding. Maybe.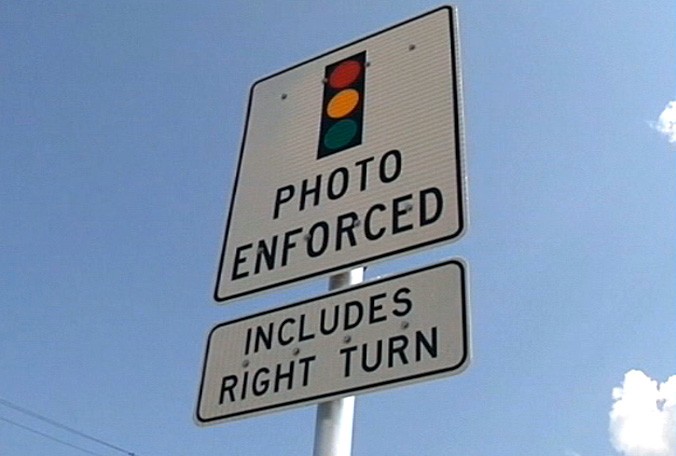 Blame it on the sun glare. A slew of lawyer activity in the Sunshine State has led to what may be the beginning of the end of those sneaky red light cameras there. First the Supreme Court didn't like a particular hearing method, then the Legislature fixed that and now an appeals court says it's still no good. Why? Because the outside company that puts in the cameras effectively decides who gets a $150 ticket for going through a red light and getting caught on camera. Says court: only law enforcement folks can do that.
As a libertarian-ish person, I have had an issue with the ticket burdening the owner of the car regardless of whether they are driving at the time. Moving violations and such should be put on the driver in my humble opinion. I know the cameras help encourage safety. But everything has to be a balance as against personal freedoms.
Now the state is considering stopping all the cameras until the litigation is all resolved, because several class actions have already been filed to retrieve back fees that people have been paying all these years if the cameras and process are deemed illegal. Imagine if this spread to other states. I would get some dough back (and I wasn't even driving, well not most of the time anyway)!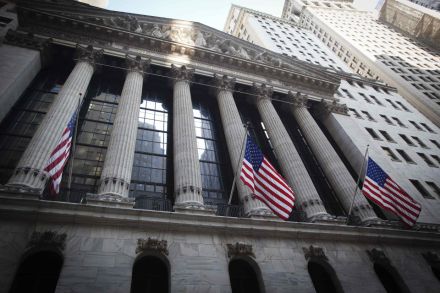 There was a time in the 2000s during the boom of Chinese companies' entering the US public markets when executives visiting from the PRC knew only one thing in English: "OTCBB." Officially known as the OTC Bulletin Board and owned and operated by the Financial Industry Regulatory Authority (FINRA), for decades it was the place for over-the-counter stocks to trade. It was pretty much this or the Pink Sheets until very recently.
Cromwell Coulson and his team at OTC Markets, owner of the Pink Sheets, OTCQB and OTCQX, have successfully defeated the BB. By offering a stronger, more supportive platform with much better execution and reliability, OTC Markets moved thousands of companies from the BB to their sites. The QB in particular, with its requirement to be fully SEC reporting, has effectively crushed the BB.
As a result, starting with a very quiet filing with the SEC back in June and a less quiet one earlier this month, FINRA has announced it is going to shut down the OTCBB. This following their failed attempt to sell the BB to Rodman & Renshaw a few years ago. FINRA also announced it is going to add regulatory burdens to the OTC Markets platforms (sour grapes maybe?).
Frankly, the BB was already brain dead, it makes sense for FINRA to pull the plug.