You may not have heard about this yet, but over the last few years close to 30 states (including Delaware, NY and California) and DC have approved and another dozen or so have introduced legislation to permit so-called "benefit corporations." The concept is that the corporate purpose can be for profit but also most include a social mission. The board not only can, it must take that into consideration in its decision making. And most of these statutes require filing an annual report of your...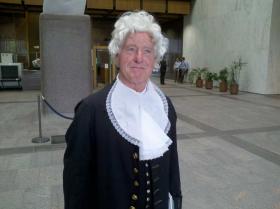 Why did the shark bypass the lawyer? Professional courtesy. Makes me think of that oldie but goodie in reading in the ABA Journal about a Kansas lawyer (and former gubernatorial candidate). He appeared before the Kansas Supreme Court last week in full Thomas Jefferson wig, big white socks and such to defend his actions. Ira Hawver (see above) was losing his license as a result of a finding that he ineffectively represented a capital murder defendant (the conviction was overturned because of this).
Hawver's argument: he followed his client's direction in not pursuing an alibi defense that was available, and he has the constitutional right to represent his client as he sees fit. The defense he did use with his client: he wouldn't have let one woman stay alive to identify him and he was a better shot and would have killed the other two dead women with fewer shots. So it must not have been him.
In my decades of law practice I have witnessed both the triumph of amazing lawyering for the betterment of social justice and the lowest of the low doing whatever it takes to make a buck. While I'm a strong believer in individual rights and society interfering with us as little as possible, I think if you are accused of a crime, especially murder, it's ok for society to set the right standards for the quality of your legal representation. Sorry Ira/Tom.
You may not have heard about this yet, but over the last few years close to 30 states (including Delaware, NY and California) and DC have approved and another dozen or so have introduced legislation to permit so-called "benefit corporations." The concept is that the corporate purpose can be for profit but also most include a social mission. The board not only can, it must take that into consideration in its decision making. And most of these statutes require filing an annual report of your work towards the public good. The statute allows the board not to breach a fiduciary duty if doing something for the public good is at the expense of profit. More and more venture firms like companies with a social mission along with making money. And other investors can be attracted to the idea of helping a worthy cause while profiting as well.
States have rushed to embrace this for two  reasons. First, money. They think people will flock to the concept and pay them various franchise and other taxes. So it's just a matter of time before all states do so I think. But the problem is that these companies have no special tax benefit like not-for-profits which are exempt from income tax and provide tax-deductible contributions from donors. So many are thinking they can pursue social good without the legal obligation and use LLCs or other types of entities. Others have a separate not-for-profit running alongside their normal business. And some don't want the hassle of the annual report. According to Huffington Post, only about 300 benefit corporations have been formed so far.
The second reason states have done this is strong lobbying through B Lab, which gives any qualifying business a "B Corp" certification as pursuing social good and profit simultaneously. They pushed for the benefit corporations to get over the concern about boards normally having a duty to maximize profit only. To make benefit corporations more attractive, states may want to consider some type of special deal for them. How about a lower franchise tax? Or maybe the IRS would allow pass-through tax treatment like an LLC or a Subchapter S corporation without the Sub S restrictions. And maybe consider making the annual report voluntary, or very simple. That might attract folks to this type of entity and enhance the public good that will come from it. Otherwise, it may be challenging to draw people into the concept. Just a thought.
A fascinating recent piece in the New York Law Journal talks about the many dismissals of class action cases against US public companies based in China for alleged fraud. The cases say that because these companies' regulatory financial filings in China are sometimes different than the SEC filings they make as US public companies, one should assume the US filings are wrong and fraudulent. The courts have shut down many of these cases.
The challenge, apparently, is being able to prove not only that the filings really are different, but that the US filing is the one that's wrong. It is not easy, for example, to show that the different accounting standards in the two countries might not have yielded different looking financial statements without either being incorrect. For example, it is legitimately possible for a company to show different revenues depending on whether US or Chinese accounting rules applied. Second, the plaintiffs in these cases have to be able to show facts that the SEC filings are the incorrect ones even if there is indeed a discrepancy.
We are seeing a slow return of Chinese companies seeking a US public market, most visibly with Alibaba's IPO which now apparently is closing within the next few days. Ideally the SEC and other governments would move to adopt international financial reporting standards that are consistent everywhere. Until that happens, it will remain a battle for shareholders of these companies to prove fraud and indeed many of these companies may have been following all the rules.
About a month ago, eight senior Democratic Senators (including Sen. Al Franken, above) wrote to SEC Chair Mary Jo White to oppose the SEC's proposed rules under the Jumpstart Our Business Startups (JOBS) Act of 2012 regarding Regulation A public offerings. In particular, the Senators believe the effort to effectively eliminate state blue sky review of these offerings in exchange for substantial disclosure is not acceptable to them. The JOBS Act says that Reg A+ offerings can avoid state blue sky review if sold to "qualified purchasers," a term the Congress left to the SEC to define. Allowing these offerings to avoid the costly, time-consuming and at times deal-destroying state review of over-the-counter IPOs through Regulation A could be a game-changer for small companies trying to access a public trading stock.
The SEC decided to allow all purchasers to be deemed "qualified," but also imposed mandatory disclosure requirements that exceed previous Reg A minimums. They viewed "qualified" as someone able to take care of themselves, and assumed all individuals receiving substantial disclosure at the time of the offering and continuous reporting thereafter was able to do so. The Senators believe the statute meant to require some level of sophistication to investors avoiding blue sky review, regardless of the level of disclosure. They believe the state review is essential to avoiding fraud in the over-the-counter markets, as a "critical second level of protection for consumers from securities fraud," according to the letter. They point to important enforcement initiatives, ignoring that the states' enforcement powers remain unchanged by the law.
My view: the SEC does a very solid job of reviewing public offerings. The states will continue to be able to play an active enforcement role when there is trouble. They will also be able to regulate brokers and intermediaries acting in their state who help companies complete these offerings. The SEC's Regulation A+ proposal struck a brilliant balance between extensive disclosure and reporting requirements in exchange for greater access to investors to stock offerings by emerging growth companies. Hopefully the Commissioners will not be swayed by the lobbying efforts of the state securities administrators.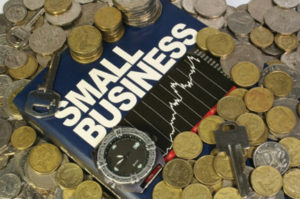 There is a section of the US Securities and Exchange Commission's website titled, "Completed Initiatives of Interest to Small Business." Since 2008 there are only three items listed. Two were mandated by Dodd-Frank and the other by the Jumpstart Our Business Startups (JOBS) Act of 2012. There were a number of major new helpful rule changes adopted by the SEC in 2007 and 2008. These followed the recommendations of a 2006 advisory committee. Most of these suggestions paralleled those of the annual SEC conference on small business. Then in 2011 the SEC launched a similar blue-ribbon advisory committee. Congress paid attention, and included some of the recommendations in the JOBS Act, and the SEC is now working to implement them as required by the legislation. But other than that it does not appear the Commission has taken up any of the 2011 committee's suggestions, which also closely tracked the annual conference's list.
Much of the SEC's attention in recent years has been to combat fraud in the small and microcap markets, including deregistering many non-reporting companies, issuing various investor warnings, and its decision in 2011 to require companies completing most reverse mergers to trade in the over-the-counter markets before uplisting to a national stock exchange. I supported some but not all of these initiatives. There was, thankfully, a fairly recent administrative decision which made it tougher for electronic trading of smaller companies through the Depository Trust Company (DTC) to be stopped without notice and hearings (though just 2 weeks ago proposed rules to implement even that change were withdrawn by DTC without explanation). But unfortunately, other than that it is not clear what initiatives the SEC has undertaken on its own initiative since 2008 to improve opportunities for capital formation in smaller companies.
My suggestion: take a look at the bills passed before this summer by the House Financial Services Committee (many are calling this collection of bills the "JOBS Act 2.0″). Or just pick up the list of recommendations from the 2011 advisory committee or last year's government-business conference. Many of these suggestions help small companies with minimal if any reduction in investor protection. It would be great to see my hard-working friends on the Staff of the SEC and the current Commissioners come together to make positive changes to help smaller companies, the true engine of the US economy, grow and achieve their business plans without the need for Congressional action, which now appears likely after the November elections.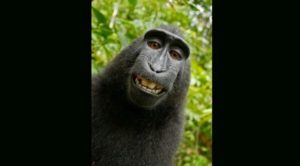 Indonesian monkey above, sorry. The US Copyright Office says the selfies you took in 2011 after grabbing British nature photographer David Slater's camera and snapping hundreds of pictures of yourself (he apparently liked the sound the camera made when taking a picture) does not give you, or Slater for that matter, any rights. Slater is fighting it in court and says he owns the copyright on anything taken with his camera on his trip and no one else can distribute the photos.
In newly released rules last week, the US Copyright Office says that no one owns a copyright on pictures taken, or other creative works by, non-humans. Examples they included were murals painted by elephants, a song written by the Divine Spirit, and pictures taken by monkeys. Tell that to Planet of the Apes' civilization-founding chimp Ceasar, who would be none too pleased.
The monkey is pretty darn cute. Apparently the new rules are under review until December 15 and after that they are in full effect. So for now you can enjoy the monkey selfies for free. My view: copyrights are for art, and if you own a camera but didn't create the art, you should not own the rights to the creative works you didn't create. But that's just me.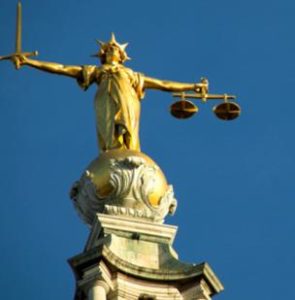 According to Canada's Globe and Mail, the Canadian Bar Association has recommended allowing non-lawyers to be owners of law firms. England has allowed it since 2007, and Australia also has firms owned by non-lawyers. In fact three Australian law firms are publicly held companies. This is not yet permitted in the US (but DC allows some non-lawyer ownership according to www.abovethelaw.com). What are the arguments pro and con?
Against non-lawyer ownership: Law is a profession not a business. Ethics must rule decision making, not profits. Being answerable to outside investors would impair judgment. For non-lawyer ownership: Firms now can only finance growth with bank loans. Many are effectively already controlled by these banks, and too many brought down by temporary cash flow problems leading to loans being called. Professional judgment already risks impairment because even lawyer owners want to make money. Allowing equity to be owned by long term investors caring about the health of the organization vs. repayment of a loan would enhance the longevity of firms. And lawyers always must exercise proper ethics and discretion regardless of profit, whether they own the firm or an outsider does.
You can tell where I'm going. It's time to allow US law firms the option to have outside investors directly (strorefront legal chain Jacoby & Myers did it years ago indirectly through a separate service company but with the same effective results). If you think lawyers don't already face the ethics vs. profit challenge every single day regardless of ownership, you may need to trade that dusty copy of Black's Law Dictionary for the sleek online version.