To my faithful blogees: as you know I very rarely self-promote here, whether shamelessly or not. But I'm extremely excited about my new affiliation with the 700-attorney international law firm of Duane Morris LLP. The firm's reputation spans many decades and has strongly and steadily grown throughout the time I have been practicing. Here's why DM, in the "AmLaw100″ as one of the largest US firms, is pretty darn awesome. 1. Collegial environment. In returning to my roots in...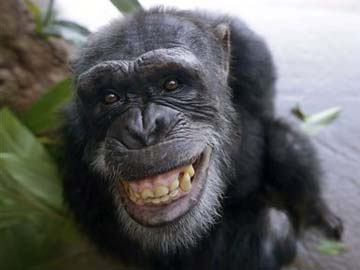 A trial court in New York State earlier this week  ruled on a most difficult question: should chimpanzees used by Long Island's Stony Brook University for research be treated the same as people and deserving of human rights? The case was brought by a group called the Nonhuman Rights Project and argued that if treated as humans, they would have the right to claim they are being unlawfully detained at the University.
The court was not persuaded by the group's arguments, though showed much sympathy for the plight of the chimps. The time may come, said Judge Barbara Jaffe, when animals have more human-type rights, but precedent is clear that all animals are property and sufficiently protected by regulations preventing their mistreatment and monitoring their use for science.
The balancing of interests of course is difficult. Chimps are highly intelligent and caring and the closest to humans in the animal kingdom. Scientists, however, argue that research using chimps helps bring significant medical advances without risking human life. Movies like the Planet of the Apes series and Ted 2 (where a talking teddy bear wins human rights) bring more attention to the question. What do you think?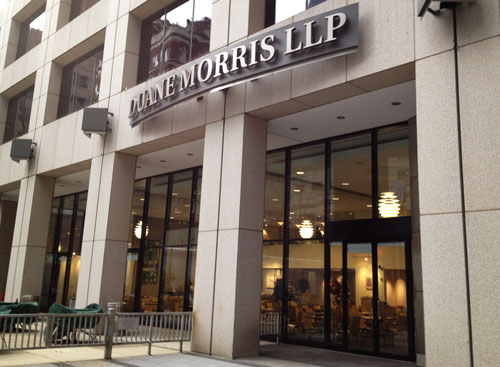 To my faithful blogees: as you know I very rarely self-promote here, whether shamelessly or not. But I'm extremely excited about my new affiliation with the 700-attorney international law firm of Duane Morris LLP. The firm's reputation spans many decades and has strongly and steadily grown throughout the time I have been practicing. Here's why DM, in the "AmLaw100″ as one of the largest US firms, is pretty darn awesome.
1. Collegial environment. In returning to my roots in big law firms, I recall experiencing a "silo" mentality at times where groups of people weren't interested in collaborating with others. For many smart reasons Duane Morris has successfully managed to gather a group of attorneys who are incentivized to work together and help each other. I've seen that in spades already in just the short time I have been on the ground.
2. Worldwide reach. Many large firms based in the Northeast US concentrate almost all their attorneys here. Duane Morris intelligently realized the importance of being able to advise clients where they and their matters are located. Whether it's New York, Miami, Houston, Chicago, Silicon Valley, London, Shanghai or many others, our attorneys can work on complex international matters with a local understanding.
3. Hard-working but not a sweatshop. As a young lawyer I turned down one of the largest, most respected firms because it was known as a "sweatshop." That doesn't mean folks at Duane Morris don't work hard. They do. But not because the culture says that "face time" in the office is what matters. We roll up our sleeves and do whatever the client needs, but the hazing mentality that is all too present in certain firms and which causes resentment and burnout simply is not necessary.
4. Full service really means that. Some of the biggest names in BigLaw actually only have a small handful of practice areas in which they specialize. My friends say it's ok, we're doing fine. And they are. But they are not offering their clients the full service that is possible. One of my colleagues the other day said at DM we do everything except divorce. It's really essentially true (of course lawyer disclaimer – check with me first!). While litigation and corporate law are certainly the largest groups of attorneys in the firm, our practice areas span literally dozens. Life sciences and healthcare, intellectual property, tax and trusts & estates, Internet and new media, real estate and construction and creditors' rights are just some of the many strengths the firm offers its clients.
5. Great place to work! If you want a sense of how people are really treated in an enterprise, ask the executive assistants. One recently told me that she is very happy at DM and that everyone is treated extremely well. The firm was actually ranked one of the top 10 family friendly firms by Yale Law Women. That tells you something.
So ping me at DNFeldman@duanemorris.com and let's catch up soon!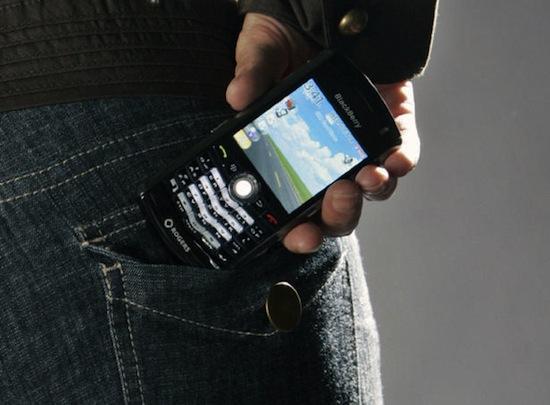 Has your phone ever made one of those calls by accident while sitting in your pocket? It's happened to most of us. Well, a Cincinnati appeals court says you have no expectation of privacy when that happens. It's easy enough to lock your phone or add a password or install an app to prevent pocket dialing. Since that's true, the court said this is no different than folks who leave their window shades open or a webcam on.
In the case, a Cincinnati airport official was having a conversation with another official and also his wife. The conversation concerned the employment situation of the CEO of the airport. During that conversation his phone pocket dialed that CEO's assistant. She listened to 90 minutes of conversation and even taped the last four minutes. She was allegedly concerned that the official was plotting something that was potentially illegal and discriminatory. The official whose phone made the call, James Huff, sued the assistant, Carol Spaw, saying he had a right to privacy and she had no right to listen or record the call.
The court (the 6th US Circuit Court of Appeals in Cincinnati) said there were easy precautions Huff could have taken to prevent this from happening, as indicated above. Interestingly, however, claims are proceeding by Huff's wife, who says she did have an expectation of privacy since it was not her phone that made the call. The court says that claim may proceed saying it doesn't believe she waived her rights. So be careful people!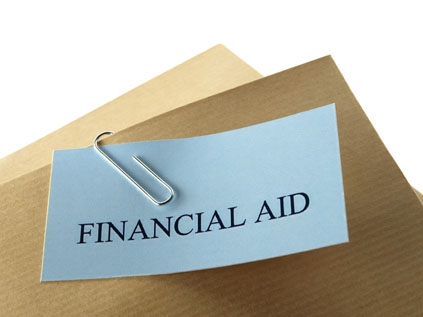 The ABA Journal reports that Indiana Tech Law School, having been unsuccessful in getting preliminary ABA law school accreditation, is ready to offer every student starting next January a 100% scholarship. The accreditation, from the ABA Section of Legal Education and Admissions to the Bar, is critical as many employers will not hire new lawyers from unaccredited schools.
The school says you can still apply for the class entering in January. They are hoping 20 students will be in the class. With this publicity, I'm guessing they will fill the class. The school's board says they are working with the ABA to deal with issues raised by the bar, like hiring career placement people. They are offering the scholarships, they say, to show their firm commitment to building the school, which had 25 students in its first entering class in 2013.
The cost of higher education is a major issue in our country. The poorest and richest are generally protected. Those in the middle are often squeezed out of the chance to attend the school of their choice because of financial reasons. That is a shame. No one is able to explain why these costs have risen many times faster than the overall consumer price index in the last 25 years. Maybe a big summit to address? With government, educators, employers and some middle class families? Just my two cents.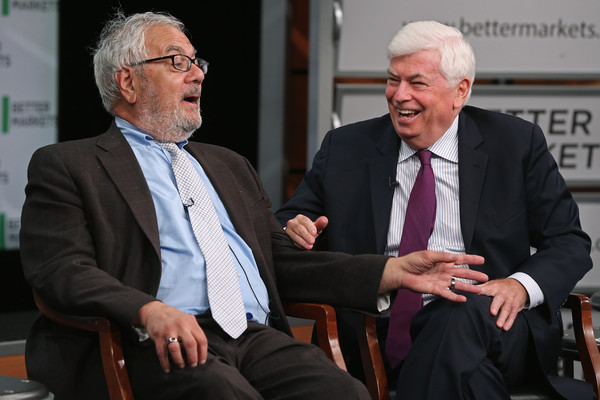 The Dodd–Frank Wall Street Reform and Consumer Protection Act was signed by the President on July 21, 2010. Quite a different world then. Some, like its namesakes (pictured above), think it has made our banking and economic system safer and has been successfully implemented by the regulators. Others say that some smaller banks are hurt by its additional regulation, and the SEC's implementation could have been stronger.
What we do know: Dodd-Frank was the most dramatic change to the regulation of the financial services industry since the birth of securities regulation during the Great Depression. Its stated purpose: "To promote the financial stability of the United States by improving accountability and transparency in the financial system, to end 'too big to fail', to protect the American taxpayer by ending bailouts, to protect consumers from abusive financial services practices, and for other purposes." The basic idea was to coordinate regulation better and more regularly monitor the largest financial institutions so there are earlier warnings of trouble. In particular the new Financial Stability Oversight Council was given sweeping powers to regulate the biggest banks. The apparent goal of many mid-sized institutions: do all they can to avoid hitting the threshold to be regulated by the FSOC.
Wikipedia notes that the law required  that the regulators create 243 rules, conduct 67 studies, and issue 22 periodic reports, at the same time that Congress was cutting the SEC's budget. But it does appear the SEC is making steady progress, and of course the hope is that the law will greatly improve the chance that we avoid another scary near meltdown of the 2008 variety. Let's see where we are on D-F's 10th birthday…
Last week the US Securities and Exchange Commission issued an "investor bulletin" about its amendments to Regulation A made under the Jumpstart Our Business Startups (JOBS) Act of 2012. The introduction to the bulletin makes clear the changes were made "to enhance the ability of smaller companies to raise money." One hopes that people actually read these, but who knows. Many of these "bulletins" are really more warnings about areas of investment concern. For cxample, in recent years SEC has issued bulletins about cannabis companies (mostly talking about the risks of investing in companies that are not SEC reporting) and reverse mergers (same concern).
With this bulletin, however, it really does seem like a straightforward informative piece about a new investment opportunity. They talk about the brilliantly designed multiple tiers of investment (Tier II has more reporting and disclosure obligations but avoids state blue sky oversight of the offering), walks through limitations on investments by non-accredited investors, and reminds folks to actually read the offering statement that the SEC will be carefully reviewing and approving.
As each step in the process of the Reg A amendments (Tier II is now generally referred to as Regulation A+) develops, we are seeing an SEC that appears truly willing, even anxious, to encourage smaller companies to use the new amended rules. This is good. Now we continue the education effort on Wall Street as the sharp minds sharpen their pencils to put deals together under the new rules.